Hello my friends! Here we go again for the next custom video fundraising! After the success of the last exclusive video with a teen enjoying her very dirty pussy full of smegma, now we are trying to collect the requested amount for a naughty pregnant milf ready to play with her preggo pussy discharge, smegma and dirty panties too!
What will I access with my donation?
This milf is very very actractive, she's in the middle stage of her pregnancy (around 5th month) and her boobs are getting bigger and bigger filled with milk. I've checked her pussy and she doesn't produce huge amounts of smegma, however she agreed to keep her vagina unwashed trying to collect as much pussy discharge as possible for us. In the video she will show her very dirty panties after few days wearing them, before collecting and playing with fresh pregnancy discharge from her unwashed cunt.  Like last time, I found an agreement to accomplish the custom video request in 7 days starting from the day of the payment, otherwise she will completely refund us!
The custom pack will be available with a special price only for the first 10 users who will help us to reach the price of €50 she requested. The pack will contain the video and some pictures too.
How does the girl look like?
She's caucasian, pregnant (visible belly), light brunette, 30 years old, fit, tall, shaved pussy, big milky tits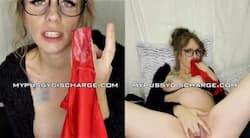 How much do I need to pay?
Donations start from 5€, but you're free to donate as much as you want to cover the requested amount in a shorter period.  When the 10 spots will be full, the pack will be available for a regular price of €15 and it won't be included inside premium membership.
Accepted payment methods are at the bottom of the page!
How to partecipate to the fundrising?
These are the rules to partecipate:
We need to collect €50, everyone is free to donate as much as he wants but the minimum amount is 5€.
Whoever partecipates to the fundrising will be able to watch the video as soon as it will be ready. If you didn't partecipate and you will ask later on, you will need to pay an higher amount to get access to the video.
We can proceed with the request only when we've collected all the money, as soon as we will arrive at 50€ the fundrising will be closed. This means the more you donate, the quicker the video will be recorded.
When your payment is done, send an email to [email protected] telling us the amount you donated and the username you used in your donation. You will get a confirmation of it.
Everytime a new donation is made, we will update the counter visible on this page so everyone will know the status of the fundrising.
You can make more than one donation.
For any questions about it, you can always ask to [email protected]
0 places left!
Regular price 15€
Accepted payment methods:
Amazon.it gift cards, (NO Amazon.co.uk, Amazon.de, Amazon.com etc.) follow the instructions below and then write an email to [email protected] telling us the username used inside your gift card
Bitcoin, send 0.00130148 to this address 1JXf7GR3hw8dNmN4vBm46jk797ShNvVMiD and write an email to [email protected] with the transaction ID
---
Amazon.it gift card instructions:
Payment only with amazon.it gift voucher, use this LINK to go directly to the page
Write the price of 15€ into "Importo" field
Write the email [email protected]
Write a nickname inside "Tuo nome" field
Leave "Messaggio" field empty
Press "Acquista ora" to complete the payment